Digitale Flyer #FotoExpoDillenvanderMolen 21 September 2021 @UMCGroningen Oogheelkunde @FotoSipkes x @InspireMediaGroningen/Cosis
Dutch:
Hallo, Hier is de digitale flyer voor mijn aankomende foto expositie in het @UMCG – Universitair Medisch Centrum Groningen ziekenhuis. De foto expositie start op Dinsdag 21 September 2021. De foto expositie is vrij om te bezoeken van maandag tot en met vrijdag, tussen 8.00 en 16.30 uur in de afdeling Oogheelkunde in het UMCGroningen Ziekenhuis. Bezoek ziekenhuis/afdeling graag niet met te veel personen tegelijker tijd en gebruik een mondkapje in het ziekenhuis. De foto expositie zal duren tot eind December 2021. Foto Sipkes en ik geven twee door mij signeerde foto's weg. Als u een foto maakt van u favoriete foto in de foto expositie. Scan de QR code op de flyer (https://tinyurl.com/yxye9uah) die gelinked is aan mijn MrOfColors.com/blog/ kunt u meer lezen over hoe u kans kunt maken op de een gesigneerde afdruk van 40×60 volg @Foto Sipkes.nl & @MrOfColorsPhotography op Instagram of Facebook gebruik daarbij de #FotoExpoDillenvanderMolen hashtag. De actie loopt de hele periode van de foto expositie en alleen in Nederland. Op 10 Januari 2022 maken wij via mijn persoonlijke instagram account @MrOfColors de eventuele prijs winneraar(s) bekend. Ik hoop dat u heeft genoten van de foto expositie en ik hoor graag u ervaring.
Flyer ontworpen door: Hugo Blacquière II @InspireMedia @Cosis
/Groningen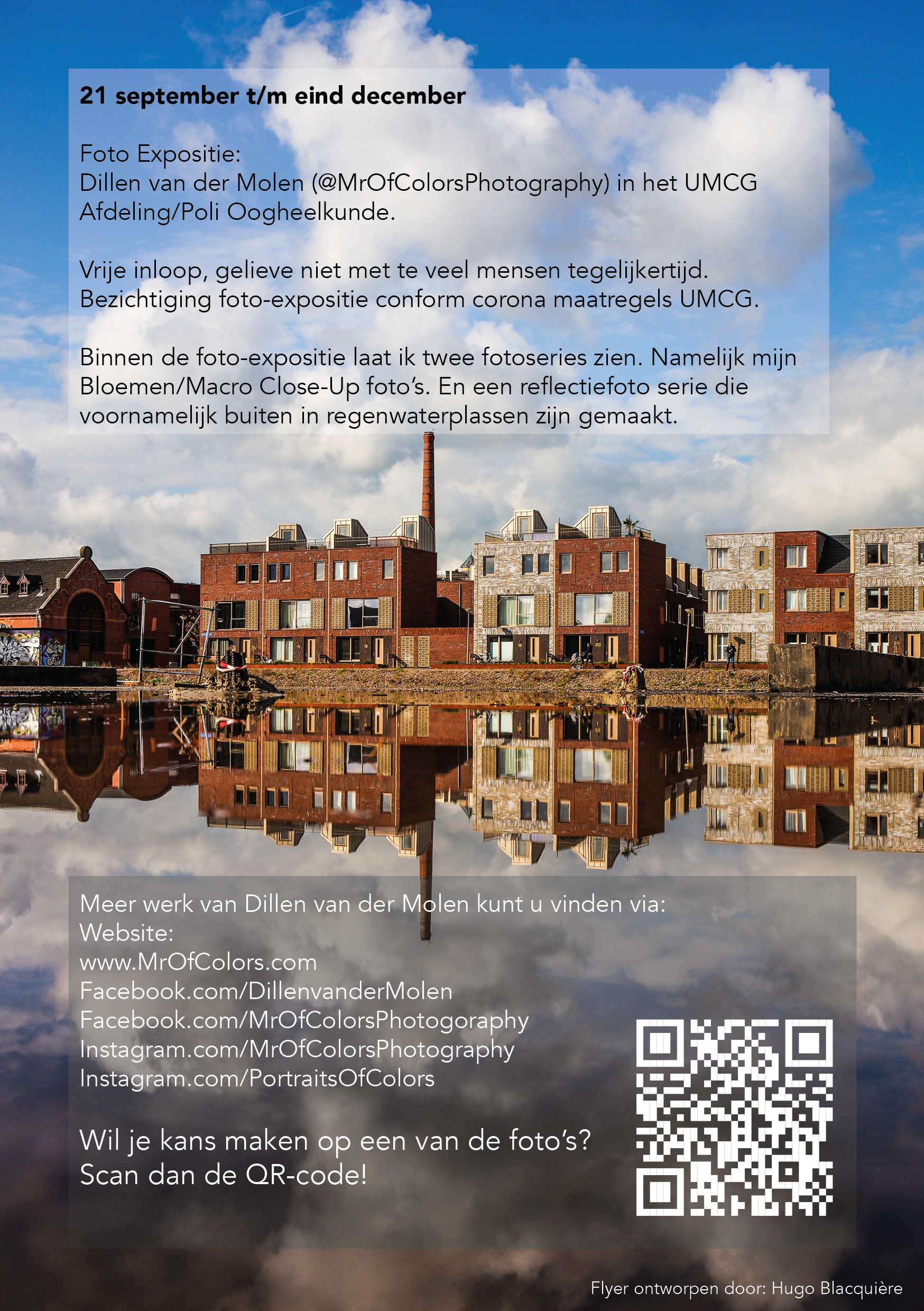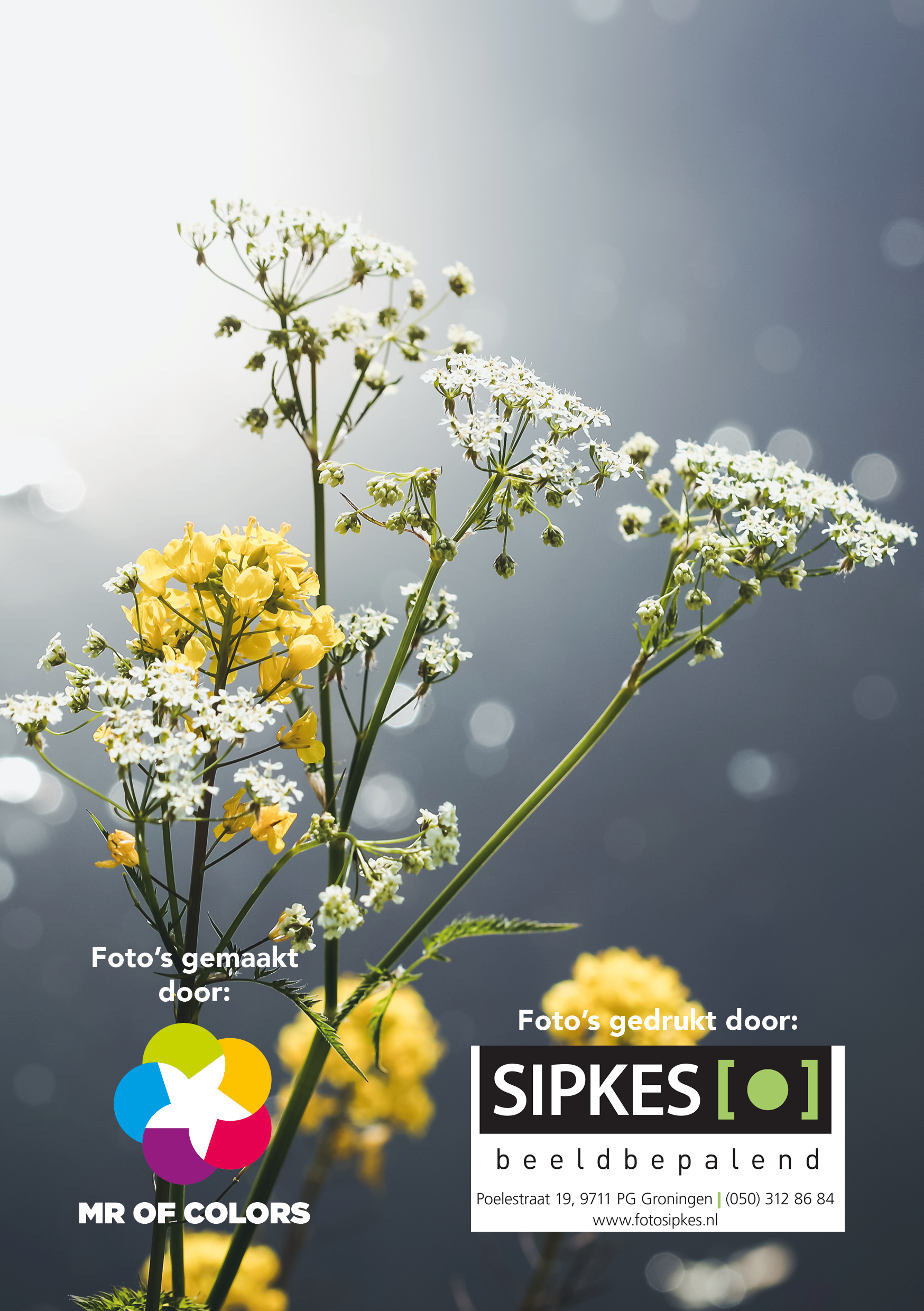 English:
Hi, Here is the digital flyer for my up-coming photo exhibition in the @UMCGroningen hospital. My photo exhibition will start on Tuesday the 21nd of September 2021. The photo exhibition is free to visit every Monday to Friday from 08:00am tot 16:30pm in the department of eye-care. Please don't visit the photo exhibition the hospital/department with too many people at the same time and wear a mask inside the hospital. The photo exhibition will end, end of December 2021. Foto Sipkes and i are giving away twoo a personal signed photos. By making a photo of your favorite photo in the photo exhibition. If you scan the QR code (https://tinyurl.com/yxye9uah ) on the flyer that is linked to my MrOfColors.com/blog/ you can read more about how you can win a 40×60 print follow @Foto Sipkes and @MrOfColorsPhotography on Instagram or Facebook use the hashtag #FotoExpoDillenvanderMolen on social media. You are able to send a photo in throughout the whole period of the photo exhibition and the give away is in NL only, On January 10th 2022 we will announce on my personal Instagram account @MrOfColors the prize winner(s). I hope you like the photo exhibition and i love to hear about your experience.
Flyer designed by: @Hugo Blacquière II @InspireMedia @Cosis /Groningen